Working Creatively With Fairy Tales: The Little Mermaid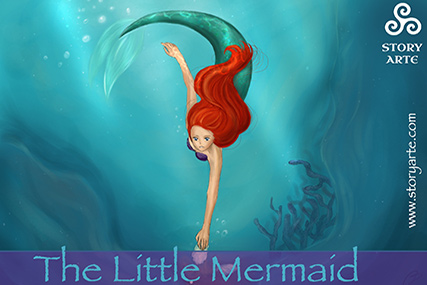 In this interactive workshop, we journey deep into the literary fairy tale of The Little Mermaid to explore the story using tools from the Story Arte creative toolbox. Gestalt therapy, art therapy and/or Psychodrama will be accompanying us on the voyage.
We will be working with an abridged oral version of Hans Christian Anderson´s famous story. The focus is not on the version by Walt Disney.
We will be working with the symbolic language of fairy tales, and we will explore the different characters in depth, especially the Sea witch. This workshop is experiential, and participants will be invited to explore the story in depth and engage actively in the activities.
Stories have been with us since the very beginning of humanity when we gathered around the fire to listen to myths of creation to connect us with our inner selves, our clan and the universe. Stories have accompanied us through dark times, of war and plague and they are here to accompany us now, with their medicine, in this time of uncertainty.
In this workshop:
We will call upon the ancient wisdom of this literary fairy tale to guide us.
We will experiment with tools from the world of Gestalt, art therapy or psychodrama as we deepen into the symbolic language of the story of The Little Mermaid.
We will explore the archetypes present in the story and how they relate to modern times.
We will explore the themes that come up during the development of the workshop
Learning objectives participants can expect from this event
You will see how to work with fairy tales in a therapeutic setting
You will learn how to explore the symbolic language and get to know some of the archetypes in the story and how they relate to our modern lives
You will see how to work with some of the themes that this story may bring up in the group: which may include working with loss and disappointment, belonging, having no voice and growing old.