Working Creatively with Stories: Matryoska and Her Nesting Dolls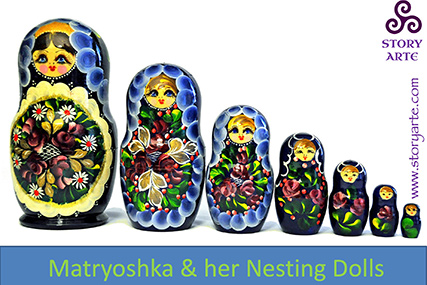 Working Creatively with Stories: Matryoska and Her Nesting Dolls
Through storytelling and tools from the worlds of Gestalt and art therapy we explore the traditional Russian story of Matryoshka.
The Matryoshka dolls (or nesting dolls) are associated with the mother figure and with family and fertility. They can be seen as a traditional representation of the mother carrying a child within her and as a representation of a chain of mothers carrying on the family legacy through the child in their womb. They can also be considered different aspects of self and are a good way to work with the inner child and other aspects of our Inner Family System.
In this workshop:
We will call upon the wisdom of this traditional story to guide us.
We will use tools from art therapy to accompany us as we deepen into the inner layers of Matryoshka.
We will see how the Matryoshka dolls resonate with us emotionally on a personal level.
We will explore ways to work with the nesting dolls in a therapeutic setting, helping clients to explore the different layers. We can use the dolls to explore the past, family life, relationships and aspects of the self.
This workshop is experiential, and participants will be invited to explore the story in depth and engage actively in the activities. The story and accompanying exercises could then be used safely with young people and adult clients, face to face or online.
Stories have been with us since the very beginning of humanity when we gathered around the fire to listen to myths of creation to connect us with our inner selves, our clan and the universe. Stories have accompanied us through dark times, of war and plague and they are here to accompany us now, with their medicine, in this time of uncertainty.
Learning Objective Participants Can Expect From This Event
We will work creatively with nesting dolls and see how they can be incorporated them into our creative toolboxes.
We will explore ways to work with aspects of self
We will explore the mother line through the use of the nesting dolls
Who This Workshop Is Appropriate For?
All practioners who are interested in working creatively in their therapeutic practise
How May This Workshop Impact Your Practice?
Participants will feel inspired to incorporate this powerful tool into their practise with clients of different ages and backgrounds
This workshop will be recorded and you can use the ticket function to pre-purchase the recording before the event. This will be useful for colleagues who are not able to attend the event live and also for those who attend the event live and want to watch it again.
This workshop will be hosted on the Zoom meeting platform where we will use our camera and microphones to interact with each other as a group.
To support practitioners in this time of extraordinary circumstances we are offering access to this group for a self-select fee.
The self-select fee is a radical inclusion policy to open learning for all colleagues. The guide price for this event is £20.00, however, we appreciate that income varies greatly in different locations and circumstances. Please contribute what you can to help us maintain inclusive professional training.