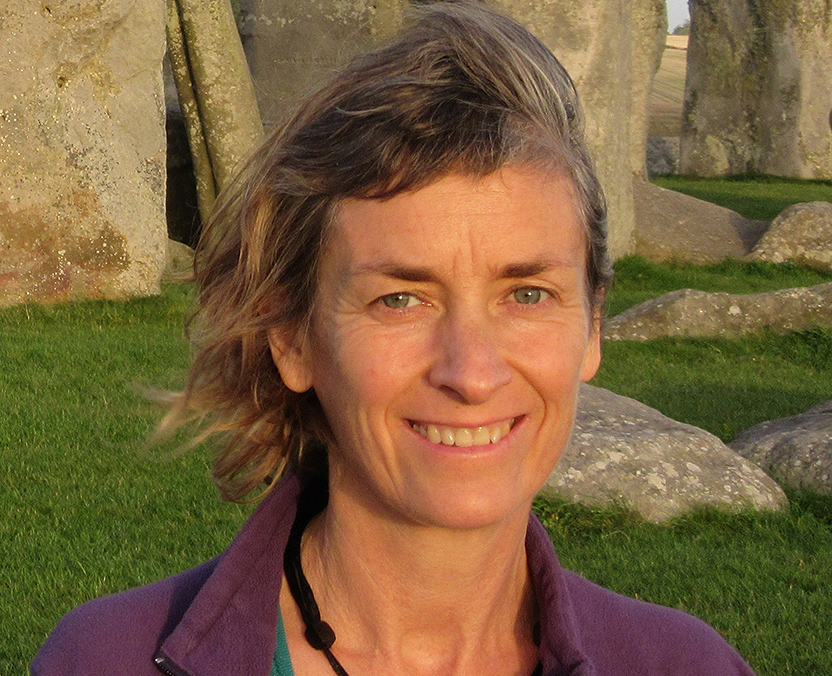 Jennifer Ramsay
Art Therapy – Gestalt therapy – Psychodrama
I am a qualified art therapist, Gestalt therapist and Psychodrama therapist and I offer individual, one-to-one, sessions tailored to the needs of each client in my centre for Art Therapy and Storytelling, in Hoyo de Manzanares, in the foothills near Madrid.
As a group facilitator I offer unique workshops, where I weave together storytelling, Art Therapy, Gestalt therapy, Psychodrama and Embodied Dance and Movement therapies, to accompany people in their process of personal development.
The rhythms of nature are very present in  my work and I follow the the Celtic wheel of the year and the cycles of the moon.
Individual Therapy in Person or Online
Story Arte is a friendly, safe, confidential  place for you to explore your inner world, whether it is Online or in my  centre in the Sierra de Madrid, where a cup of tea and a welcoming smile are always waiting for you.
My approach is holistic and based on Gestalt therapy and Mindfulness. As well as talking therapy we may use art therapy, body work, psychodrama and fairy tales to explore your inner world. Since every individual is unique, our sessions will be tailored to your specific needs.
Perhaps you are suffering from anxiety, stress, depression or eating disorders. Or perhaps you are going through a critical moment in your life and may be dealing with grief or loss or trying to get to grips with uncertainty. Or, maybe you are looking to nurture growth, well being and personal development.
What ever you are seeking, I would be happy to accompany you in a warm, empathic and non-judgemental way. So, please feel free to contact me to book an appointment for an informal chat to see if Story Arte is the best place for you at this moment in your journey. The sessions can be in English or in Spanish.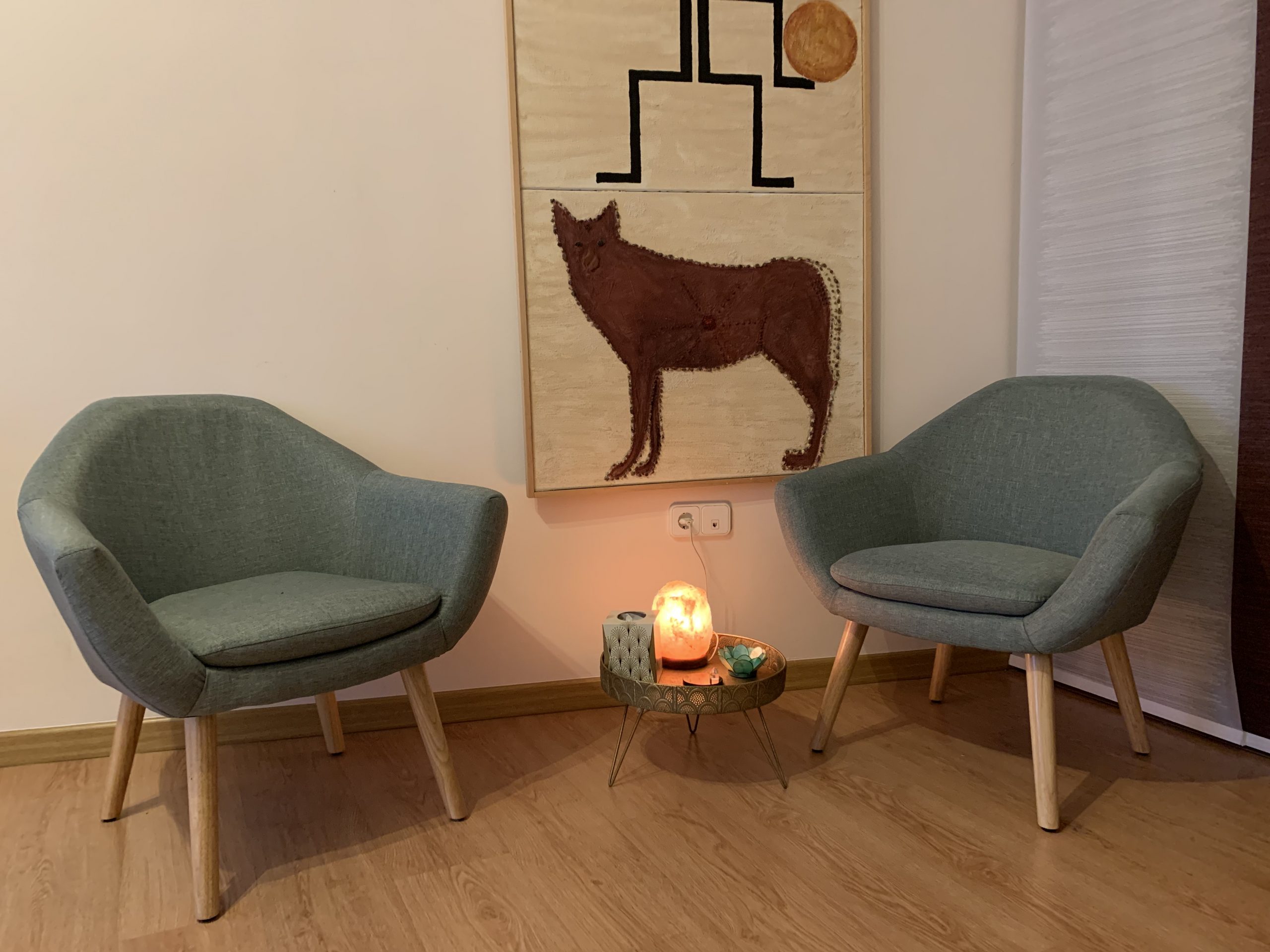 Nature Based Art Therapy
Over the course of regular workshops, we will explore unknown territories and walk along new paths, overcoming obstacles on the way and lightening our suitcases. If you hear the call to nurture yourself through the expressive arts and become the artist of your own personal life story you are welcome.
You may join us for part of the journey or the whole journey.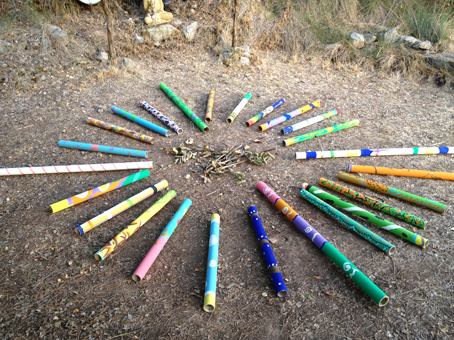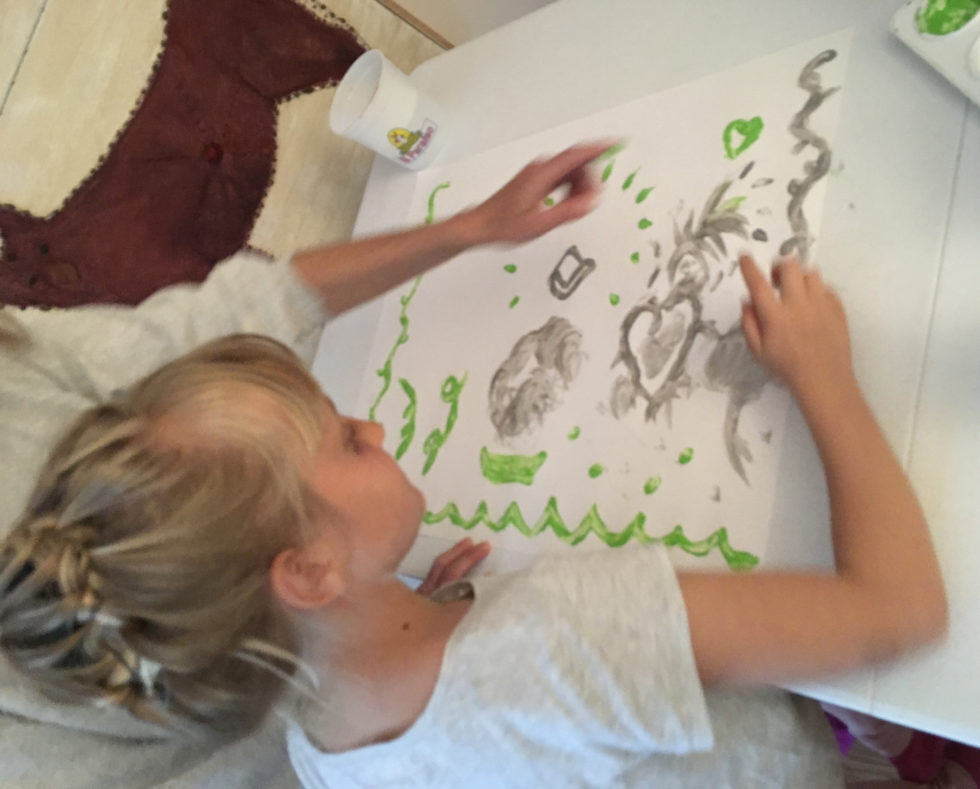 Story Art Therapy in the Family
Follow the call to adventure, leave your busy lives behind and enter into a magical world of stories where anything can happen.
As you explore the stories through play, theatre and other art forms you connect with the other members of our family on a deeper more meaningful level and open up to creativity in all fields of family life.
This activity can be done as an individual family or as part of a workshop with other families.
Art Therapy for Teenagers
Fun Expressive Arts workshops for teenagers and other groups. 
We experiment with different expressive arts and use a variety  of different materials like paint, clay, collage, shadow puppets, masks and the 6 part-story-method to explore issues that are important for this particular age group.
Art Therapy in Movement
We embark on an adventure of self-discovery. Creativity will be the mode of transport and the different expressive arts your travel companions. We may paint, model with clay, invent stories, do collages or whatever the journey asks of us.
Over the course of regular workshops, we will explore unknown territories and walk along new paths, overcoming obstacles on the way and lightening our suitcases. If you hear the call to nurture yourself through the expressive arts and become the artist of your own personal life story you are welcome.
You may join us for part of the journey or the whole journey.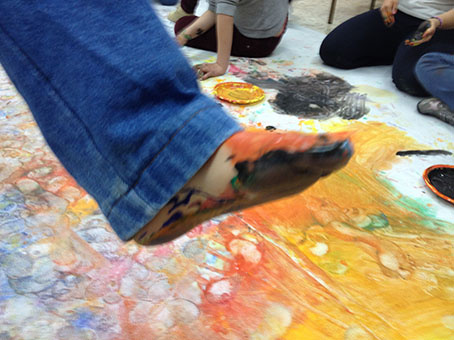 Climate Anxiety – Eco Grief
We respond to the reality of climate change in many ways. Many people are in denial and continue with a business as usual approach, where as others feel the need to take urgent action.  Some people experience anxiety and depression, others are grieving for the loss of biodiversity and the planet as we know it. 
I provide a space for you to explore your feelings  around what is happening to our beautiful planet.
I am a member of the Climate Psychology Alliance and part of a therapeutic Support Group which offers support to people who are affected by the ecological, biodiversity and climate crises.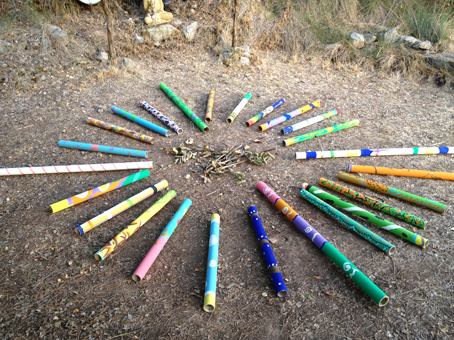 Training and Qualifications
BSc in Biological Sciences.
Qualified Gestalt Therapist.
Qualified Humanistic Art Therapist.
Qualified in Integrative Therapy, Programa SAT, Fundación Claudio Naranjo.
Trained to work with Body Processes through PCI. I am part of the team in the DMT training at Mary Magdalene Mystery School in Madrid.
Trained in Psychodrama. I am a regular guest facilitator in the Pedagogical Psychodrama training in "Arte Sana de la Vida".
Trained in Mindfulness (MBSR programme). I practice the teachings of Thich Nhat Hanh.
Experience
As well as my individual clients, I have a wide experience of facilitating groups of art therapy and expressive movement: I have worked as a telephone counsellor with Childline UK and with young people who are intellectually disabled in Asociación Respirávila, in Spain. I collaborated as a volunteer with the association Artegeh offering therapeutic support to young people with limited resources in the "TransformArte" project. And, also, as a volunteer in Streetwise Youth (SWY), offering support, advice and care to boys and young men at risk on the streets of London.
I am a member of AEP, ARTEGEH y AETG, and abide by their code of ethics.
Art Therapy: Language of the Subconscious
Painting, clay modelling, dance, psychodrama, collage, stories…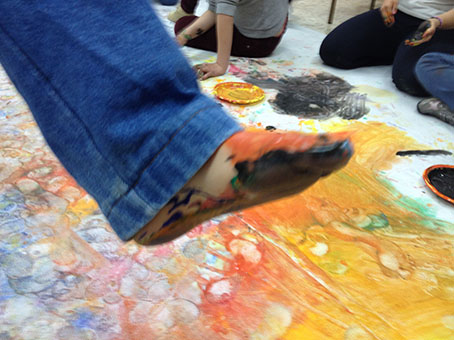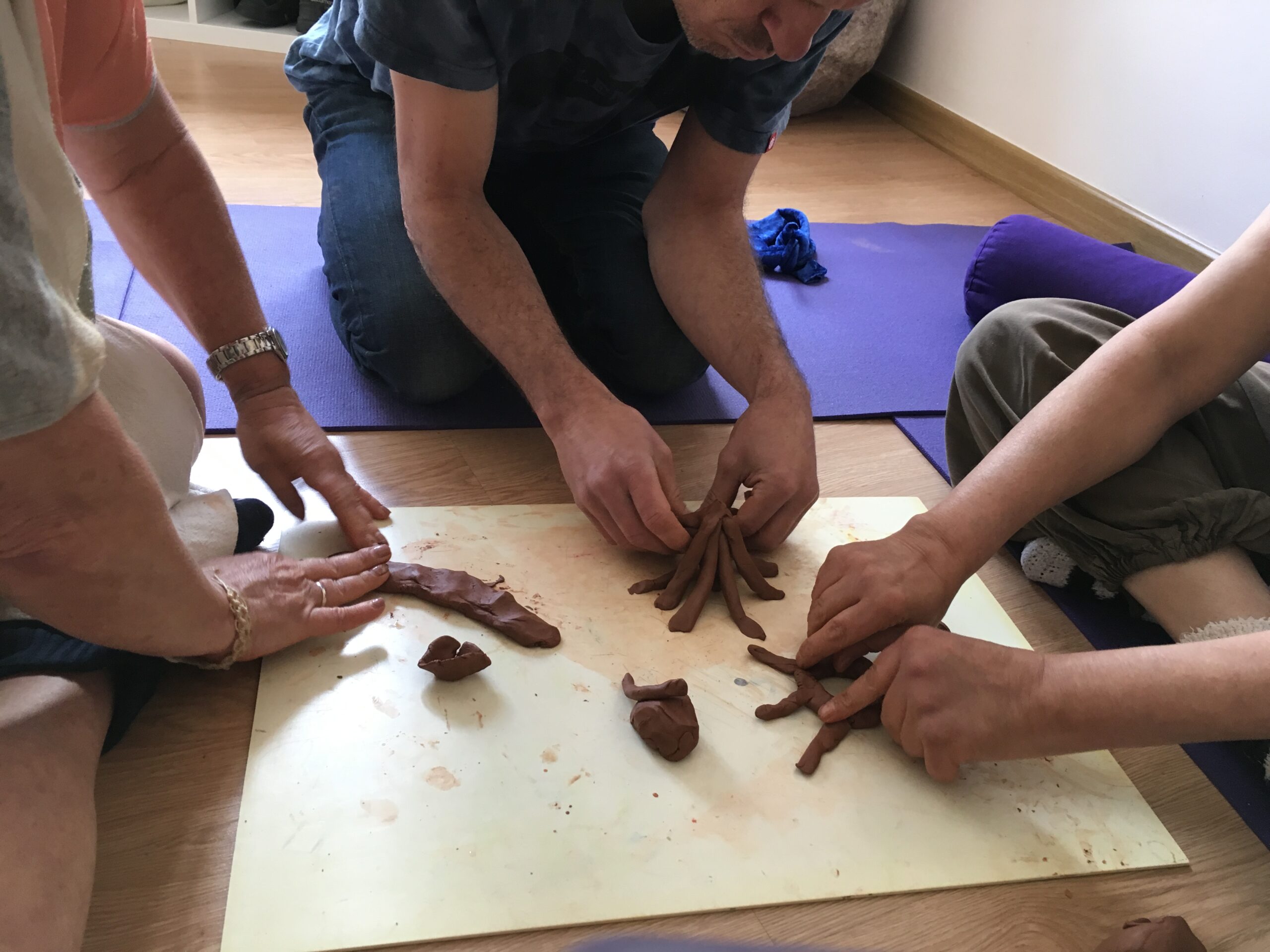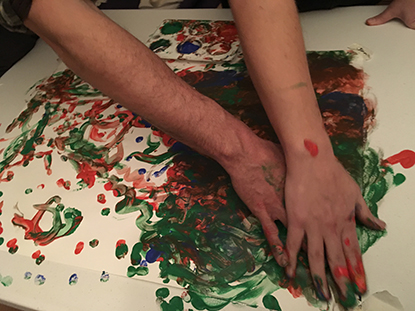 Frequently Asked Questions
What do we do in therapy?
In our hour-long sessions, we use talking therapy and perhaps art therapy, body work and psychodrama to help you explore and express your inner world.
My role as a therapist is to help you to become more self-aware and accompany you on your path of self-discovery. It is a process of co creation between us. Through mindfulness based activities you can observe what is happening inside and connect with your inner strengths and recourses to overcome obstacles in your journey through life.
How do I know if I need therapy?
You may be seeking therapy for many reasons:
To deal with anxiety, anguish, fear, depression, phobias, stress, low self-esteem or food disorders.
For support to deal with critical moments in your life like separation, loss or grief.
For help in overcoming difficulties and old behavioural patterns.
To nurture growth, personal development, transformation, wellbeing and help you lead a more fulfilling life.
To dissolve old, limiting energies in the womb centre.
What is Gestalt therapy?
The pillars of Gestalt therapy are: to be aware, to be in the present moment, to focus on how you deal with what is happening to you and to assume responsibility for your life. The focus is always on the obvious (the phenomenological) and on what is happening and how you respond to it rather than on why something is happening to you. The idea is to help you learn to accept and trust your feelings and your experiences as you develop a sense of overall awareness.
What is psychodrama?
Psychodrama is an action method of personal development inspired in the Theatre of Spontaneity that stimulates the capacity for creativity and spontaneity that everyone has. It is a creative way to explore possible solutions to problems and unresolved issues from the past.
We can also submerge into the world of dreams and fairy tales. Through role playing and symbolic play we open up a space for the unconscious to be expressed in an easy to understand language to help us lighten our loads.
How much does a session of therapy cost?
The price for a session of 60 minutes is 50€.